Services
The advancement of technology, the Internet, and information exchange has given exponential rise to the threats such as Cyber threats, Hacking, Phishing, Cyber Stalking, Unauthorized Access, Cyber Squatting, Web Attacks, etc. The number of threats and reported computer related incidents are increasing at a tremendous rate which results in drastic revenue loss, legal liabilities, diminished productivity and brand erosion. It becomes imperative for any organization to stay up-to-date on the latest security technologies, threats and remediation strategies to safeguard the integrity of the organization's IT Infrastructure.
At Pristine, we possess world class security service portfolio designed to defend against and mitigate the most vicious attacks based on attacking and defending highly secured environments. Our ability to meet the information security needs across industry verticals, with commitment of quality delivery and partnering approach has been highly recognized in the industry which has positioned Pristine InfoSolutions as a leader in this segment.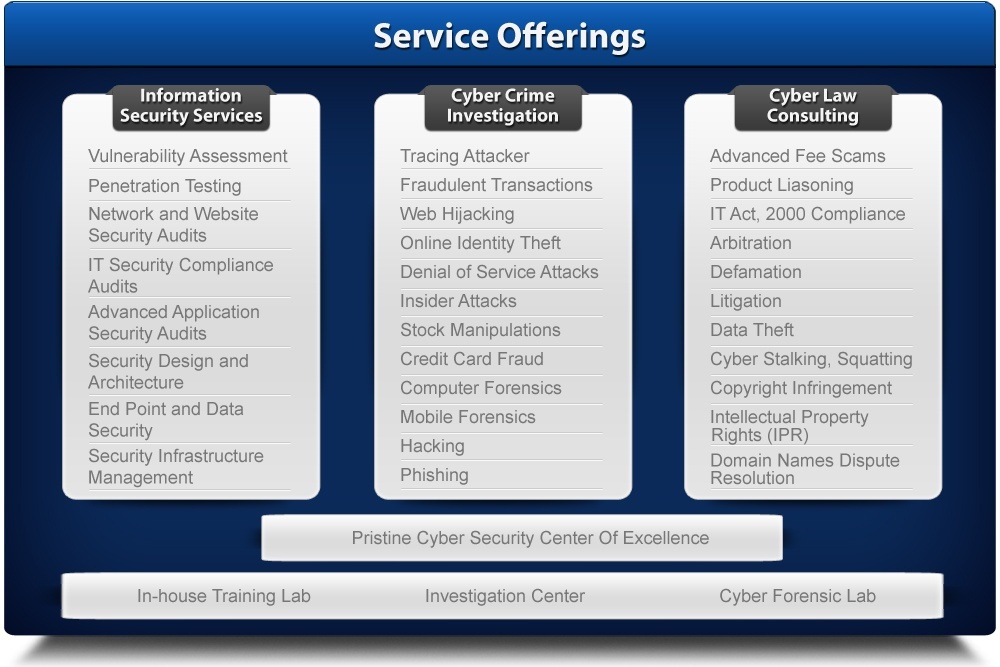 Information Security
Pristine InfoSolutions offers a wide range of consulting services to address the complete spectrum of information security requirements of enterprises to define security strategies and implement solutions to mitigate risk, ensure compliance, and accelerate business objectives.
Vulnerability Assessment
Penetration Testing
Network Security Audit
Website Security Audit
IT Security Compliance Audit
Advanced Application Security Audit
Security Design and Architecture
End Point and Data Security
Security Infrastructure Management
Security Policy, Process and Procedure Development
Cyber Crime Investigation
Pristine's Cyber Crime Investigation services aims to ensure that the evidence collected in the process of a forensic investigation from any electronic communication media should be able to withstand legal scrutiny providing our clients with a seamless and holistic solution in the most complex cyber crime scenario.
Tracing Attacker
Fraudulent Transactions
Web Hijacking
Online Identity Theft
Denial of Service Attacks
Insider Attacks
Stock Manipulations
Credit Card Fraud
Computer Forensics
Mobile Forensics
Cyber Law Consulting
To execute complex challenges of the modern Cyber world, Pristine InfoSolutions delivers top-notch legal Cyber Law consultancy services to individuals and corporates in the areas of Information Technology and Communications law and policy as well as all aspects of electronic commerce.
Computer Intrusions
Corporate Misconduct
Copyright and Trademark Infringement
Embezzlement and Extortion
Advanced Fee Scams
Product Liasoning
Uniform Domain Name Dispute Resolution (UDRP)
IT Act, 2000 Compliance
Arbitration, Defamation, Litigation, Data Theft
Intellectual Property Rights (IPR)